Europe's GlobeAir is a private jet operator based in Hoersching, Austria. After starting operation in 2009, GlobeAir took less than a decade to establish itself as Europe's leading private jet operator. What sets GlobeAir apart from most other private jet operators is their reliance solely on their own fleet of aircraft – all Cessna Citation Mustangs – serving only European destinations.
However, by sourcing only the aircraft they own, and having the whole fleet consist of a single type of aircraft, GlobeAir has managed to streamline their maintenance and operation to provide a seamless flying experience to its customers. Having a fleet of identical aircraft helps keep operating costs low, maintenance easy, and allows the operator to concentrate better on the customer experience.
Company Overview
GlobeAir is spearheaded by its founder and current CEO, Bernhard Fragner. After graduating from Vienna University as a civil engineer in mechanical plant design, Fragner went for an MBA in aviation management. In 1994, he attained a PPL and an EASA ATPL license.
Believing in revolutionizing short-range private jet travel with strong IT support and maximum aircraft utilization, Fragner founded GlobeAir in 2007. Few other than GlobeAir can claim the distinction of being one of the pioneers of the air taxi business model.
After buying their first aircraft in 2008, starting operation in 2009, and homogenizing their fleet in 2011; GlobeAir quickly climbed the ranks and in no time became Europe's #1 private jet operator.
Fragner is a passionate aviator and a seasoned pilot. His business success and focus on customer care have led to him winning prestigious awards in his career, including:
EBAA Flight Safety award in 2015
Best Performing Austrian Exporting Business award in 2016
Austrian Pegasus award for Best Business in 2016
Best Business Jet Operator award in 2017
Lifetime Achievement in Aviation by Sapphire
About Company professionals
Executive Board
Bernhard Fragner – CEO and Founder
Investors & Advisors
Markus Huemer – Member of the Supervisory Board
Friedrich Huemer – Chairman of the Supervisory Board & Majority Shareholder
Gisela Edelbauer – Member of the Supervisory Board
Management
Jonathan Berdoz – VP Sales and Marketing
Ricardo Santana – VP Business Operations
Diego Durjava – VP Flight Operations
Gerda Aufreiter – VP Corporate Finance
Team
Claus Aichberger – Head of Customer Care
Gregor Petereder – Head of Key Accounts & Events
Michael Fritz – Head of Ground Operations
Ylli Frroku – Head of Corporate IT
Iva Bobkova – Head of Corporate Procurement & Parts Management
Johannes A. Skrivanek – Head of Digital Marketing
Sanja Rogovic – Head of Crew Support
Roberto Mairo – Head of Maintenance
Customer Care
Claus Aichberger – Head of Customer Care
Mila Foster – Deputy Head of Customer Care
Crew
Diego Durjava – VP Flight Operations
Riccardo Ceccherini – Deputy Head of Training Department
Thorsten Wassmann – FOMOD
Federico Bevilacqua – FOMOD
Raffaello Strazio – FOMOD
Samo Kramberger – Flight Safety Manager
Arthur Montibert – Compliance Manager
Roman Lasinger – Security Manager
Complete Services
Fix&Flex is GlobeAir's jet card program. Customers willing to opt for it can choose from three options:
Classic:
Includes 24 hours
Guarantees a 72-hour availability
Personal travel manager
5% discount for other services
You can cancel for free 48 hours before the flight
€25,000 prepayment needed, after which you pay for any additional services you use
Gold
Includes 50 hours
Guarantees a 48-hour availability
Personal travel manager
7% discount for other services
You can cancel for free 48 hours before the flight
€50,000 prepayment needed, after which you pay for any additional services you use
Platinum
Includes 100 hours
Guarantees a 24-hour availability
Personal travel manager
10% discount for other services
You can cancel for free 24 hours before the flight
€100,000 prepayment needed, after which you pay for any additional services you use
GlobeAir also offers the One Million Jet Card. Valid for 454 flying hours which can be utilized over five years, this card provides unique bespoke services on top of the regular ones. Cardholders also get free unlimited empty leg flights, one limousine pick-up a day for a 30-minute drive, and maximum flexibility up to as little as two hours before departure. Understandably, the One Million Jet Card costs 1 million Euros.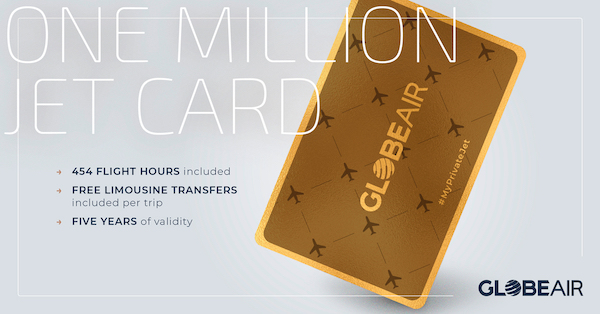 Special flight solutions are available for politicians and diplomats, athletes, and medical staff and cargo:
Politician and Diplomats:
This flight solution is best suited for heads of states, ambassadors, diplomats, and important decision-makers who need to reach their destinations fast and with discretion. In the times of this deadly pandemic, GlobeAir is offering some of its bespoke services free for politicians and diplomats.
Medical Staff and Cargo:
Timing is of the essence in the matters of life and death. And since medical personnel deal with those matters regularly; they need quick, on-time, and readily available means of travel. Another commendable initiative by GlobeAir in times of this pandemic is rendering some of their exclusive services to medical staff and their cargo free of charge.
Athletes:
For people who need to perform at their peak against the best in the world, they need to be fresh and well-rested, both physically and mentally. The Athletes' flight solution by GlobeAir takes care of all their travel arrangements – from leaving the house to arriving at the venue – so these sportsmen and women don't have to lift a finger until they're inside the field, court, ring, or track.
GlobeAir also offers Exclusive Travel Experiences: packages that include private jet charter, premium accommodations, bespoke transfers, and exclusive experiences of different tourist destinations. They also have an "Events" page that lists all the major upcoming European events for you to attend in style. Right now that page looks a bit empty since the events are subject to cancelations due to the ongoing pandemic.
Other services offered by GlobeAir include limousine transfers for you to arrive in style, personal driver to take you wherever you need, and premium catering for dining on the finest food options. There is also a helicopter service to pick you from the terminal and drop you right at the doorstep of your destination, saving you precious commute time.
Capabilities
Primarily a jet charter operator that flies within Europe, GlobeAir manages its entire operation through its fleet of Cessna Citation CE-510 Mustang aircraft. These luxury jets seat four passengers comfortably and cover over 984 destinations all across Europe.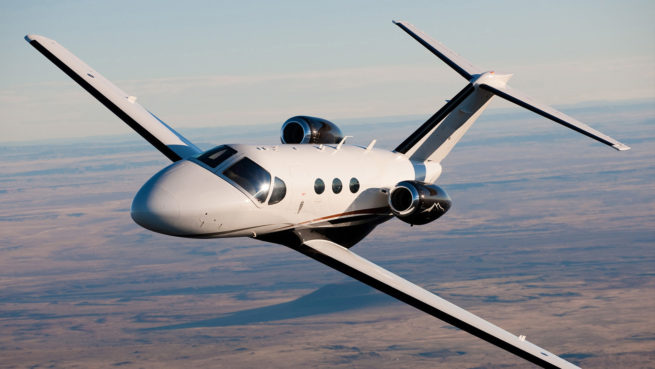 This may seem small to some, but the choice of aircraft is perfectly logical in the eyes of owner Bernhard Fragner. He believes that 85% of their target clients prefer to fly alone or in pairs, thus rendering the need for higher-capacity aircraft unnecessary.
GlobeAir operates the world's largest fleet of jets Citation Mustang in more than 1200 airports in Europe, including those not accessible to traditional airliners – their compact size and low weight is the prime reason.
Sixty-four experienced full-time pilots ensure safety and timeliness of each flight. GlobeAir operation isn't affected by strikes or other such circumstances. A 24/7 availability and 15-minute boarding time is guaranteed to all passengers.
Market strength
GlobeAir AG is IS-BAO as well as Wyvern certified. With almost 50% of the market share, GlobeAir AG is Europe's leader within the sector of very light jets.
In 2019, GlobeAir's revenue flights climbed by more than 13% to 8,466, producing a record turnover of €28 million ($32 million). This compares with 7,475 revenue flights and a turnover of €21 million in 2017. In 2020 this number rose by another 8.6%. Even with the travel restrictions weighing heavy on most other airlines, GlobeAir has been continuing its profitable ways.
Customers Trust, Feedback
With WhatsApp, GlobeAir ensures frictionless customer experience right on the channel their customers love using – ultimately boosting customer satisfaction and sales efficiency.
The cost of a GlobeAir flight is very close to a business class ticket if you consider that a day-return business class flight from Zurich to Munich costs € 4,500 and the respective GlobeAir price is € 5,200. However, the luxury passengers get flying in a charter plane leaves any commercial airliner's business class in the dust.
With a global pandemic looming over everyone, passengers would appreciate the ease of mind that comes with traveling in a private jet. It is much safer compared to flying in a crowded commercial airplane, and much cleaner as well.
Offer, Promotion, Discounts
Do you know you can score up to a whopping 90% discount on some of GlobeAir's empty leg flights? The charter claims that you can have a private jet flight for as low as € 590 if you time it right. The deal is not just for you; you can add up to three members to your flight. Further deals on how to score empty leg seats can be found here.
Future growth planning
After recording year after year of strong returns, there is no doubt that GlobeAir has found the perfect formula for succeeding in such a market. Even with the global pandemic wreaking havoc over all other businesses, GlobeAir has managed to hang on. Not only that, they have thrived tremendously. We can expect bigger things from this giant of the industry shortly.
Conclusion
With its homogenous fleet, limited operation, access to airports beyond the reach of others, and passion for customer care, GlobeAir has shown that cutting costs and maximizing profit doesn't have to come at the cost of customer's experience. Having a uniform fleet has helped them cut down on maintenance complications, while flying only small aircraft allowed them a deeper reach in the continent.