PrivateFly is a private jet charter booking platform, or a broker, that was among the first of its kind. PrivateFly prides itself in utilizing technology in combination with a team of aviation experts to simplify and optimize private air travel.
PrivateFly claims to "live and breathe air travel." Ever since becoming a subsidiary of a leading global air travel firm such as Directional Aviation, PrivateFly has assured greater reliability, competitive pricing, special discounts, and access to a more extensive fleet of aircraft.
Company Overview
In 2008, Former RAF pilot Adam Twidell was looking for a job. He wasn't keen on becoming a commercial airline pilot, so he looked towards the private jet market. While working for a renowned private jet operator called NetJets, Adam realized that more and more people were becoming frustrated with commercial airline travel. Meanwhile, the world of the private jet charter was shrouded in mystery for most passengers.
Adam discussed it with his wife, Carol Cork. After tossing different ideas, they concluded that there was a big gap for a private jet charter broker. And thus, PrivateFly was born. Adam became its CEO while Carol, with her travel advertisement background, was appointed the Director of marketing.
PrivateFly quickly gained popularity, and Adam and Carol's small business venture started growing. Some of the accolades PrivateFly acquired were:
Inclusion in Smarta's top 100 businesses for 2010
Inclusion in the Financial Times' FT1000
"Best innovation" in Best Business Awards
"Site of the Year" award by Flight Global
Everline Future 50 award
Ranked 4th among Britain's SMEs with the fastest-growing international sales
Ranked 46th among Britain's fastest-growing private technology companies
UK's first ARGUS certified private jet broker
This quickly growing small business's success garnered a successful acquisition by the Directional Aviation OneSky group in 2018. Adam is still PrivateFly's CEO; Carol is no longer with the company.
About Company professionals
Adam Twidell – CEO & co-founder, PrivateFly
Annelies Garcia – Commercial Director
Alex Nott – Digital Marketing Director
Dave Woolley – Director of Finance – Europe, OneSky
Bruno Gregolin – Vice President, IT – Europe, OneSky
Kenneth Ricci – Chairman, Directional Aviation Capital
Andrew Collins – CEO, Global Jet Cards and On-Demand Charter – OneSky
Carol Cork – Co-founder and former Director of Marketing, PrivateFly
Complete Services
PrivateFly offers three services to passengers:
On-demand charter
For people who don't fly that often, or for those who want to try PrivateFly without signing up for a membership, the On-Demand Charter is the way to go. Passengers book the entire airplane of their choosing with this option.
Booking a flight on a private jet is a simple, four-step process. You can do that from either PrivateFly's website or their convenient smartphone app. All you have to do is select your origin, destination, dates, and number of passengers. PrivateFly's handy website tool will show you a list of prices. After that, you can compare the given quotes and book your flight.
The PrivateFly Jet Account
A Jet Account is one of the two options best suited for people who fly frequently. The PrivateFly Jet Account requires you to deposit a certain amount of money to PrivateFly. In exchange, you get seamless bookings, priority access, choice of a wide range of aircraft, and flight credits each time you fly, topping up your account balance by 2% of the value of your flight.
PrivateFly Jet Account holders can share their account with an unlimited number of people. These can include friends, family members, neighbors, colleagues, or anyone else they can think of. Account-holders also get exclusive city pair rates; more on that later. Deposited funds can be withdrawn at any time.
The PrivateFly Jet Card
If you want to fly on fixed hourly rates with a bespoke service through and through, the PrivateFly Jet Cards are for you. The jet card price differs depending on the type of aircraft you choose.
The €5,900 jet card allows you to fly on the light aircraft
The €7,970 jet card allows you to fly on the mid-sized aircraft
The €11,700 jet card allows you to fly on the heavy aircraft
Like the Jet Account, the Jet Card can also be shared among your friends and family an unlimited number of times. Plus, they can be canceled at any time.
Capabilities
PrivateFly website covers 19 countries. These include major European countries, UK, USA, UAE, Russia, Canada, Australia, and New Zealand.
Being a platform to connect multiple private jet operators, PrivateFly has access to more than 7,000 luxury aircraft in the world. While PrivateFly owns none of those, they are ensured to be of the highest standards. The fleet includes small propjets, small jets, medium jets, long-range jets, and even large airliners. PrivateFly even lets you book a mammoth Boeing 747-200 jumbo jet with a seating capacity of 450.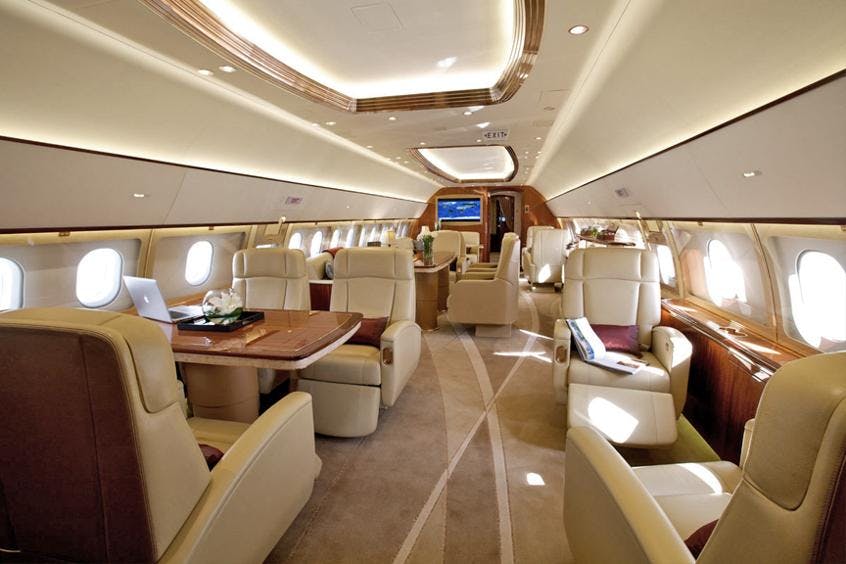 For an easy and quick commute to and from the airport, or for leisurely flights over the city skyline, PrivateFly has contracts with some of the best helicopter operators. Skip the traffic and the city's twisting roads, land right at the door of your destination in style.
Other than regular operations, PrivateFly aircraft can be chartered for emergencies as well. For the rapid rescue of citizens stuck in another country, PrivateFly offers repatriation flights. PrivateFly employs a multilingual team of experts who know what to do when citizens get stuck in situations such as natural disasters, civil unrest, military coups, wars, terrorism, industrial disasters, and more.
Air ambulance and medical evacuation are carried out by PrivateFly's team of expert doctors and first responders. For patients in need of urgent medical attention, PrivateFly's air ambulance service is available 24/7 to quickly and safely transport them to the nearest facility.
PrivateFly isn't the kind of airline operator to stop you from bringing pets on board. On the contrary, pets are not only welcome; they're taken care of just like a family member.
According to Adam Twidell, two-thirds of PrivateFly routes are not flown on by commercial airlines. This makes their service unique and exciting for passengers looking to go to places unknown.
Market strength
PrivateFly turned many heads when it was able to turn a $3 million investment into a whopping $30 million in yearly earnings soon after its launch. No wonder it was able to secure a successful buyout from a major international company such as Directional Aviation.
Directional aviation holds various successful private jet companies under its umbrella. Prominent names include Flexjet, Sentient Jet, SkyJet, Nextant Aerospace, and of course, PrivateFly. Together, they manage to generate about $2.5 billion in sales for their parent company.
Customers Trust, Feedback
PrivateFly has taken extraordinary measures to ensure the hygiene and safety of every aircraft before the passenger enters. A dedicated team of safety officers is responsible for ensuring the highest safety and health standards on all flights. Each item entering the aircraft is scrutinized in light of COVID-19 protocols as well as PrivateFly's safety policy.
Right after booking, the customer is assigned a dedicated team of flight advisors to coordinate with the operator, airport, and parties responsible for catering, ground support, and transportation. Every detail is handled carefully to provide a truly seamless experience to the passenger.
PrivateFly is adored by its customers. It holds a 4.9/5 rating on the independent rating platform Trustpilot. You can read what the customers had to say about PrivateFly here. PrivateFly is also a member of aviation bodies EBAA, NBAA, ACANA, and BACA
Offer, Promotion, Discounts
In 2019, PrivateFly launched the CityPairs offer. It let passengers fly between a set pair of European cities at fixed discounted rates. PrivateFly offered their Nextant 400xti and Legacy 600 aircraft to jet card or jet account holders to travel for about 30% less than the market rates. It even includes onboard drinks and meals.
Future growth planning
While the global pandemic has struck a significant blow to the aviation industry in general, PrivateFly CEO believes the opposite. Twidell says they're seeing sales matching the previous year, outperforming others in the private jet game.
A private jet charter is indeed a much safer way to travel by air with a contagious disease on the loose. PrivateFly has been able to keep a close eye on customer's preferences during this pandemic. Now that the world has changed, PrivateFly won't have much of a problem adapting to the differences.
Conclusion
PrivateFly was able to grow from a small business startup of a British couple, to a successful private jet broker service. Now, under the umbrella of a major global aviation business such as Directional Aviation, PrivateFly has the logistic and financial backing to ensure better customer service, consistent rates, competitive prices, variety of fleet, and attractive discounts.
With the recent pandemic causing a boost in the private jet industry. PrivateFly strives to maintain the standard of safety that its customer-base has known it for. PrivateFly aims to continue being a reliable option for people seeking safe and secure travel – for themselves and their loved ones – in times like these.