Victor is an award-winning on-demand jet charter marketplace. Advertised as the Uber of private jets, Victor, with its 200 partners, allows its passengers to select from 7,000 luxury private jets to fly to about 40,000 destinations around the world, through a few taps on their mobile app.
Victor passengers can choose from a wide variety of aircraft. From small turboprops to big 100+ seater Boeing 737. No matter what the size of your crew, you can be sure that victor has a plane to fit you all.
Company Overview
Victor was founded in 2011 by its current CEO Clive Jackson. A seasoned and accomplished entrepreneur, Jackson created Victor intending to make jet chartering transparent, streamlined, and easy; yet luxurious.
The idea of launching an online charter startup came to Clive Jackson due to his frustrations with preexisting private jet charter services. Upon getting the same feeling from many of his fellow passengers, Jackson decided to tap into the on-demand charter market. He founded Victor, a simpler and more direct jet charter solution that cuts out all the middlemen between the passenger and the operator.
Before founding Victor in 2011, Jackson had already proved his mettle as a visionary and a flagbearer of the digital revolution by establishing one of the UK's first digital agency: Global Beach in 1993, and an automotive digital marketing agency: AutoTorq in 2004.
The charter service is registered with ARG/US, making it a part of the global family of charters recognized for providing quality, integrity, and safety, while ensuring the highest standards of service to its customers.
About Company professionals
Clive Jackson – Founder and CEO
Mike Ryan – Head of operations
Dan Cook – Director of Sales
Bernardus Vorster – Financial Director
James Farley – Head of Data
Craig Edmunds – Head of Engineering
Anthony Heath – Head of Product & Engineering
Ryann Richardson – Vice President of Marketing, North America
Toby Edwards – Managing Director (ROW)
Steffen Fries – Board Member
Alex Sozonoff – Board Member
Complete Services
Victor membership is free, and there are no hidden upfront charges. Victor prides itself on being completely transparent with their pricing. By using their app, fliers can compare the costs of different charter operators before making their choice.
The app also allows fliers to get complete information on any plane; including the tail-number, make, model, and real photographs of the aircraft exterior and interior.
Victor's Pets on Jets service allows you to fly with your fur, feather, or scale baby. This is for people who don't want their beloved pets shoved in a cage during their flights. Victor treats their passengers' pets the same way they'd treat their passengers.
Victor's Group charters allow you a convenient commute with your posse of 18 people or more. Custom options allow for catering to how your group wants to travel. Some of their group charter services are labeled Mice, Music, VIP, and Sport. Each of these services is designed for a specific type of group to meet their specialized needs.
MICE allows you to customize your flying package according to your convenience.
SPORT is catered towards sports teams and ensures they're ready for the big game as soon as they touch down
MUSIC is for touring bands and is built to assure privacy and seamlessness all through their tours.
VIP is for passengers who want the absolute premium from a private jet. The layout, interior, and decorations can be matched to customer preference, down to the tiniest details
Victor also offers its airplanes to be used by governments, corporations, and individuals for rescue operations. Their emergency response team is ready 24 hours a day, seven days a week, fully equipped and qualified to answer any sort of emergency.
Due to COVID-19 restrictions being altered and changed on a daily basis, Victor ensures updating the members with the latest flying protocols via email. Furthermore, their staff is present any time of the day to answer any such queries according to the latest guidelines from WHO.
Capabilities
While Victor's business model is geared towards simplicity and cost-effectivity, they spare no expense in providing the passengers with the best flying experience, expected from a top-notch private charter.
Victor has its own private terminals for their passengers to stay in without any disturbance while they wait for their aircraft. These terminals are capacious, aesthetically pleasing, and equipped with an open bar and buffet. A dedicated concierge takes care of their every need; the passengers only have to make a few taps on their phone.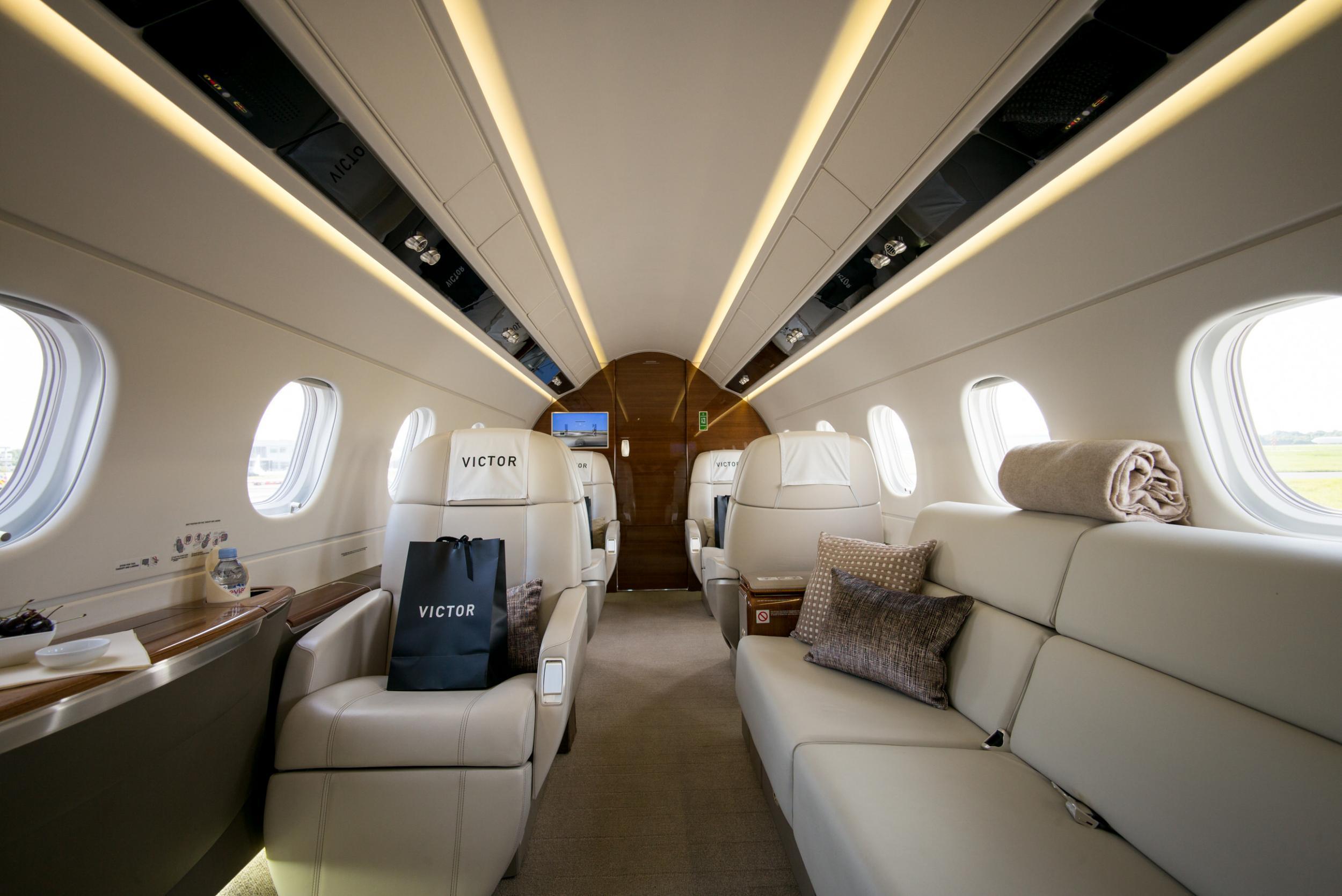 Dedicated to fulfilling their customer's every command, Victor can customize the entire interior of the aircraft according to their patron's desires. Never to shy away from their wealthy passengers' requests, no matter how extravagant, Victor has arranged for fully customized interiors, a dedicated DJ, an onboard cinema, and gourmet meals of your choosing, for you as well as your pet. Victor is known to fulfil their clients' wishes down to the tiniest details.
Market strength
Victor was included in Sunday Times tech Trend 100 2015, 2016, 2017, 2018, and 2019. According to recent reports, Victor sits 380th in the FT 1000 list of the fastest-growing companies of Europe.
Victor amassed about 36.6 million GBP in 2018, up from 29.4 million GBP in 2017. This revenue came from UK sales only and didn't take into account worldwide sales.
Victor has had five funding rounds. The most recent of these was conducted in 2018 and managed a total of $62.5 million from 4 investors and two lead investors. Victor employs 51-200 personnel.
Victor is backed by BBA Aviation, BP Ventures, GR Capital, and Elio Leoni Sceti.
In 2015, vista acquired California-based jet charter service, YoungJets.
Customers Trust, Feedback
Customers largely praise Victor for its simple yet cutting-edge approach to chartering jets. The transparency of the pricing and the absence of any subscription or membership fees makes Victor's services easy to use.
Common praises from the customers are regarding Victor's convenient and user-friendly app. Their competitive pricing gives them an edge over other jet charter services, while their honest pricing eases the customer and ensures that they are getting the biggest bang for their buck.
To ensure their transparency, Victor has gone a step further by introducing Client-preferred operators on their website and app. This provides the customers detailed information on the server they're opting for. The practice sets them apart from other private jet charters who don't disclose the operator name to their customers.
The more environmentally concerned customers should be pleased to know that flying Victor leaves a smaller carbon footprint. Victor claims that by each flight, the CO2 emissions are offset by 200%! All Victor's partners operate the latest and most fuel-efficient aircraft and adhere to the environmental standards. In 2018, a quarter of their flights flew carbon neutral. Victor ensures this by minimizing the fuel burn, using more sustainable fuels, and donating a portion of each booking to the Carbon Offset Program, at no additional cost to the customer.
Offer, Promotion, Discounts
Victor's business model allows replacing the broker with an app. This simplifies the process, connects flier directly to the operator, and saves on costs that would otherwise be accrued.
Aside from chartering the whole aircraft for yourself, you can also avail a seat in Victor's empty leg flights. These flights come at a relative bargain, yet have all the bells and whistles you'd expect when chartering a private jet.
If you gather a bunch of friends to book an empty leg flight, the split charges can be as low as $600! For a private charter, you can't go cheaper than this.
Future growth planning
After the covid-19 pandemic wreaked havoc on aviation business throughout 2020, Victor is said to be going for a change of ownership, and the group is set for a demerger. According to Clive Jackson, the private jet service is set for a management buyout.
Victor also plans on partnering with Uber to provide true door-to-door services to its customers.
Conclusion
Victor, with its revolutionary business model, has certainly emerged as a big player in the game, challenging the traditional archetype of airline charter with its simplicity, transparency, straightforwardness, and convenience.
Despite being hailed as a more economical option in the opulent market of private jets, the flying experience with Victor is anything below pristine. All of Victor's partners strictly adhere to the ISO-9001 standards, ensuring the passengers have a uniformly comfortable and exquisite experience no matter what aircraft they're flying on.