VistaJet is a global private jet operator based in Malta. VistaJet operates in 187 countries and over 1900 airports, covering about 96% of the globe with an hour-based aircraft hiring model. This whole operation is covered by their own aircraft – a fleet of 72 mid-to-large bombardiers.
The colossal homogenous fleet makes VistaJet the largest operator of bombardier airplanes working today. By sourcing only its own aircraft and utilizing a fleet from a single manufacturer, VistaJet has managed to cut down maintenance costs, staff training expenses, and operational complications while providing customers a high standard of private flying.
Company Overview
VistaJet is currently owned by its founder and chairman, Thomas Flohr. A former billionaire with a passion for racecar driving, Flohr founded VistaJet in 2004. The company was unique at the time as it gave its members access to their whole fleet of aircraft while paying on an hourly basis.
After buying his first aircraft for personal use in 2003, Flohr placed it in 2004 with a local aircraft operator while he wasn't using it. The aircraft chartered out immediately. The generated returns prompted Flohr to first buy another, larger aircraft, and later jump into the private jet business full-time.
Flohr analyzed the then-available private jet business model and found the absence of a truly global private jet operator. He also observed that most private jets were only made available if their owner wasn't using them. Flohr decided to challenge the industry by introducing a private jet service that was available 24/7 and required members to pay as per hours flown.
Not only is Flohr a passionate aviator – clocking 800 flying hours each year – he is also an amateur racecar driver, competing in Le Mans in 2017, 2018, 2019, and 2020. Flohr was named Entrepreneur of the Year in 2018.
Team
Thomas Flohr – Founder and Chairman
Ian Moore – Chief Commercial Officer
Nic van der Meer – Chief Operating Officer
Meaghan Wells – Chief Investment Officer
Tobias Schramm – Chief Legal Counsel
Kenneth Bonicci – Chief Projects Officer
Complete Services
VistaJet doesn't have a flight schedule; it operates wherever the customer wants it to. This type of flight operation gives the full control of aircraft to the customer as they are not bound to the flight schedule of the operator. The passengers are charged based on hours flown. Any other costs incurred in the process are not charged to customers, making it a much more economical solution compared to fractional ownership.
VistaJet memberships are available in two flavors:
Program
Program is VistaJet's traditional business model. It works by letting the members hire an aircraft on an hourly basis. The aircraft operates on the schedule defines by the passenger rather than the operator. Program is touted by VistaJet as the practical alternative to owning an aircraft. The passenger gets to have all the comfort of flying in their own private jet while worrying about none of the responsibilities.
Program features are customizable to fit the passenger's needs and the aircraft is available for a notice period as little as 24 hours.
Program members can also use a cost calculator on their website to compare the costs of flying with VistaJet vs operating their own aircraft.
Depending on your destination, the per-hour rates of flying with Program membership comes to about $11,000 to $17,000.
Direct
Direct membership was launched in 2017 to offer preferential rates and empty-leg seats to frequent travelers. With the accompanying app, Direct members can quickly book a flight based on the availability of a VistaJet aircraft in a nearby airport. This allows members to book one-way flights and secure juicy empty-leg deals to destinations all over the world.
Direct membership requires a $10,000 membership fee and a $40,000 deposit. The members are notified via the app of any and all flights operating in their city for them to embark on leisure flights on a short notice.
All VistaJet members get access to exclusive VistaJet suites, ski resorts, yachts, estates, and island resorts worldwide with their privacy and personalized pleasure ensured.
Capabilities
VistaJet ensures coverage of 93% of the world with its humungous fleet of bombardiers. These aircraft are mid-to-large sized and have the ability to take on extra-long routes.
The whole of VistaJet's operation is currently carried out by two families of aircraft:
Bombardier Global, including
Bombardier Challenger, including
Aircraft in the Bombardier Global family are large-cabin configuration luxury jets. The 7500, 6000, and 5000 models can seat up to 14 passengers and are designed to operate on long routes. The seating capacity can be reduced by up to half to accommodate sleeping passengers. The 7500 is the fastest aircraft in the VistaJet fleet, flying at about 0.925 times the speed of sound.
The bombardier Challengers 850, 605, and 350 seat up to 14, 12, and 8 passengers respectively. As with the Globals, the seating capacity reduces by about half to accommodate sleeping passengers. The smaller-sized challenger 350 allows VistaJet to land on shorter runways, and hence, difficult-to-access airports.
All bombardiers on the VistaJet fleet are kept identical. The sleek-looking silver body with the signature VistaJet red stripe has become a symbol of quality, magnificence, and class.
Each VistaJet aircraft operates with a dedicated pair of experienced pilots. Flying specifically on one aircraft ensures maximum familiarity between man and machine. A hostess is present on all aircraft to tend to the passengers' every need.
Market strength
In 2019, VistaJet reported record returns with a 16% increase in profits. With a 21% growth in program membership and the opening of their Middle-East office in 2019, VistaJet was able to secure huge returns for their operation. Thomas Flohr credits VistaJet's unique and effective business model for high success in the industry.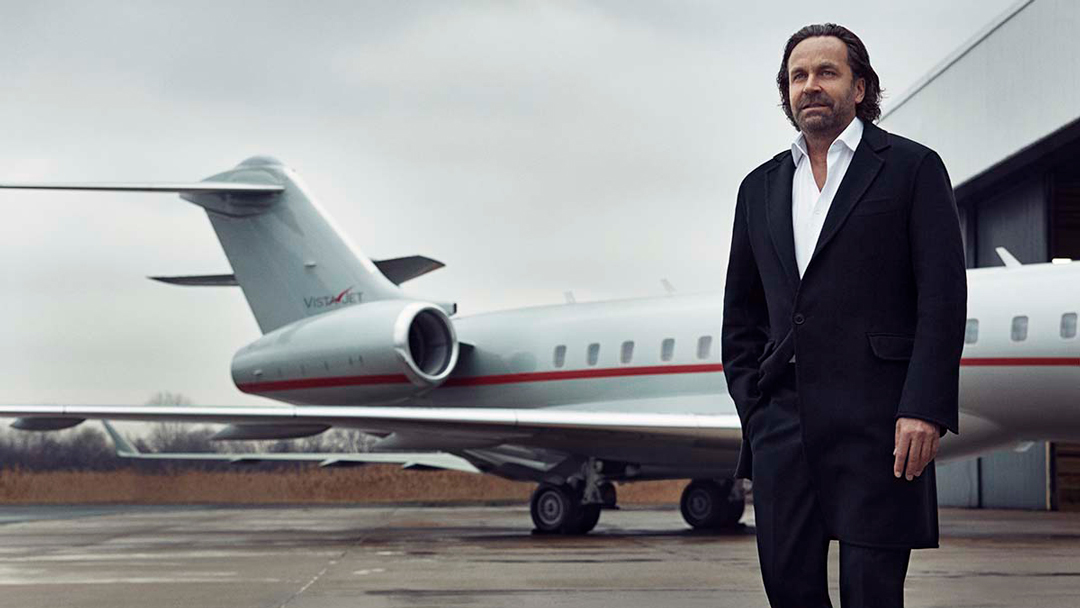 Vista observed their strongest growth in the Middle-East, followed closely by the U.S, Europe, and then China. On the back of these highly successful operations, VistaJet was able to generate $663.82 million in sales for the year 2019.
(Source: VistaJet)
Customers Trust, Feedback
VistaJet's fleet consists of very young aircraft. Customers can be assured they're not flying on a rusty old industry veteran; each aircraft being only 4 to 5 years old. VistaJet phases out older aircraft while buying new ones frequently.
During the current health crisis, it is important to ensure the customers that the aircraft they're flying in fits the highest hygiene and health standards. For customers who want complete control over their flying experience, VistaJet is keen to inform them of every minor detail about the aircraft and the crew they'd want to know.
VistaJet is often praised for its services geared towards children and pets. Through an abundance of entertainment facilities, adventurous activities, and tasty treats, VistaJet's Adventures in the sky program gives the young travelers an experience they wouldn't want to end. Children of all ages have plenty of fun on VistaJet's specially designed entertainment and educational amenities.
VistaJet also offers customized menus for pets. Customers can also rest easy knowing their fur babies are getting the highest of standards of comfort while they fly. Forget cramping your beloved pet in a cage and stuffing them in the cargo hold like a piece of luggage, VistaJet flies your pets with you and provide excellent pet care throughout your journey with their VistaPets program. Expert vets, dieticians, and pet-care specialists are available to attend to any challenges that you may face while traveling with a pet.
Offer, Promotion, Discounts
VistaJet members can also access heavily discounted deals to score premium jet charter services at a bargain using their handy empty-legs finder tool. You can access this tool from their app or on their website here.
Future growth planning
With a strong 2019 performance, VistaJet is optimistic to end 2020 on a high note. Despite the unique challenges of the current year and the havoc wreaked by the pandemic on the aviation business, Thomas Flohr remains positive that the company will continue its profitable ways.
VistaJet aims to capitalize on the disrupted aviation business through its huge fleet of self-owned aircraft and continue to outperform its competitors despite the tough times. With the policy of constantly adding the latest and youngest aircraft to their fleet, VistaJet continues to operate the most cutting-edge equipment available in the market.
Conclusion
Being in the business for 15 years, VistaJet certainly has proven its mettle in the industry. After continuously outperforming their competition year-after-year, there is no doubt left in the efficacy of VistaJet's unique business model. The ultra-comfortable and super-fast bombardiers that represent the highest quality of private jet chartering a customer can expect are the pride of VistaJet. These silver and red bombardiers have ensured timely travel, 24/7 availability, and reliable operation to VistaJet's 650,000+ satisfied customers.